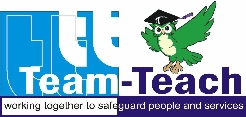 A Team-Teach consultancy , for the geographical regions of Barnet, Camden , Enfield and Haringey
is owned and operated under licence by Alastair Reid.

Team-Teach Aims and Course Objectives

•To promote the least intrusive positive handling strategy and a continuum of gradual and graded techniques, with an emphasis and preference for the use of verbal, non-verbal de-escalation strategies being used and exhausted before positive handling strategies are utilised.
• To enable services develop acceptable and authorised responses to disruptive, disturbing, angry and aggressive behaviours in a manner that maintains positive relationships and provides safety for all, by training in Team-Teach.
• To reduce the amount of serious incidents involving physical controls in all settings and to emphasise the importance of exhausting behaviour management strategies in the first instance.
• To increase the awareness of staff concerning the importance of recording and reporting, monitoring and evaluating, all incidents involving positive handling.
• To provide a process of repair and reflection for both staff and children.